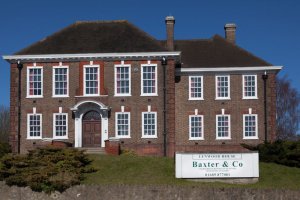 All our partners and staff work from Lynwood House, on the Crofton Road, right next to Orpington Station. With fast trains to and from London every fifteen minutes (during off peak periods), it takes only 17 minutes to London Bridge and 25 minutes to Charing Cross.
Our convenient location makes it possible for us to work with clients throughout Kent. We have clients in towns all over the region, including Bexley, Bexleyheath, Sevenoaks and Maidstone, to name a few.
If you are passing, please do come in for a coffee and a chat. If you are coming by car, we have ample parking for visitors, clients and staff.
Lynwood House was originally built in 1926 by the Bromley Rural District Council. It stands on a site of considerable historic significance, with evidence of habitation going back over 4,000 years.
A Roman villa was built on the site in about A.D. 80 and continued to be occupied until the departure of the Romans in 410 AD. Remains of the villa can be seen in the Crofton Roman Villa museum right next to our offices.
You can find us at: Lynwood House, Crofton Road, Orpington, Kent, BR6 8QE
For more information or help getting to our office call 01689 877081.
How to get here
By Train:
Orpington mainline station is a short walk from the office with connections to London Charing Cross, Victoria, Tunbridge Wells, Hastings and Sevenoaks.
By car:
Our office is situated on the A232 which leads to the Orpington by-pass, the nearest connection to the M25.
By bus:
Orpington Bus Station is just around the corner from our office on Station Approach, and serves bus routes: 358, 684, R1, R4, R5, R8 and R10.