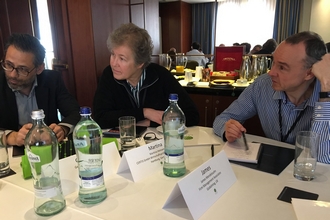 Mark Wildi, Tax Partner was pleased to attend the 3rd Annual EMEA Regional Meeting of Abacus Worldwide held in Venice, Italy at the Hilton Molino Stucky from April 4-5, 2019. The conference attracted legal and accounting firm partner level delegates from Cyprus; France; Germany; Italy; Luxembourg; The Netherlands; UK; and USA.
The educational program offered delegates a wealth of information on emerging financial and legal opportunities and issues, providing a forum to share best practices in practice management for professional service firms.
Through attendance at Abacus Worldwide conferences, Baxter & Co fortifies its global business connections and enhances its ability to provide assistance, referrals and increased knowledge to clients with international business needs. In addition, clients of the firm will benefit directly from the relationships and resources that were exchanged between member firms of Abacus Worldwide at the Regional Meeting.
"Abacus conferences and meetings create a forum for business exchange, meaningful partner level interaction, and innovative idea sharing. Delegates participate in educational sessions led by industry thought leaders, keeping members ahead of the curve on local and international business trends. We are truly pleased that Baxter & Co participated in the EMEA Regional Meeting representing England amongst 18 attendees from 8 countries." says Julio Gabay, President and CEO of Abacus.
"I was delighted to attend the conference, and found it extremely helpful, building relationships with the other member firms across the globe. Our membership of Abacus enhances our ability to service our clients on an global basis and I look forward to working with our member firms in the near future, helping to meet our clients international accounting, tax and legal needs.' says Mark Wildi, Tax Partner at Baxter & Co.
Abacus Worldwide is a professional alliance comprised of independently owned and managed professional service firms providing direct access to law firms and accounting firms in every region of the world. As a multi-discipline membership association, both law and accounting firms join Abacus in order to support international business referrals, participate in knowledge exchange and gaining access to practice management tools all to better serve their growing clients.
For more information about Baxter & Co, visit the firm website at https://baxterco.co.uk/. For more information about Abacus Worldwide, visit the association website at www.abacusworldwide.org.